Much like a piece of artwork hanging from a wall, many people need to reach out and touch Alicia Tomchuk's heavily tattooed arms when they first meet her.
She has got used to it.
"Especially women. When people see me in public it's like an instant arm grab, they have to touch it and they say 'it's incredible'. "I don't think I have ever had a bad reaction."
But the 31-year-old site technician has had mixed reactions.
One workmate told her that back in his day they would "Brillo that right off".
The first tattoo artist she approached back in Canada gave her the "oh sweetheart" talk.
"I was looking quite girly and he said, 'oh sweetheart, what's your career, what's your job, you shouldn't do this' and he tried to talk me out of the sleeve. I was shocked.
"So I knew that if he wouldn't do it, someone else would."
Alicia has a fully tattooed left sleeve with an owl woman representation and various patterns. Half of her right arm is also beautifully patterned. Each thigh has a large spirit animal depicting her sisters back in Canada.
Ninety per cent of her tattoos were done by local tattoo artist and bestie Emma Kerr from Visual Intelligence.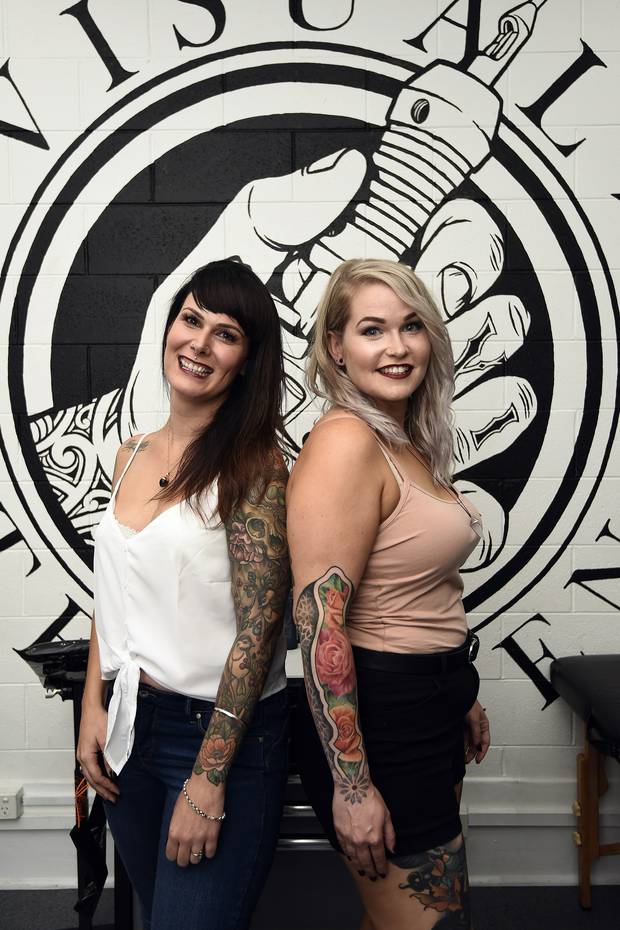 Emma
Emma Kerr finds these sorts of negative reactions a good filter to keep small-minded people out of her life.
"A while ago now this fellow bought me a drink and was saying 'you're just such a beautiful woman but I just have one word of advice for you, just don't get any more tattoos'.
"So I took the drink he bought for me and walked away."
Mostly, people know Emma as "that tattoo chick".
She uses bad reactions to filter out close-minded people.
I have had women messaging me saying I have changed their lives and they have so much more confidence now, they finally find themselves sexy.

"I just think it's outrageous, if someone was walking across the street and you didn't like their haircut you wouldn't yell out 'your haircut is ugly' so why do people think it's so acceptable to be so verbal about someone's tattoos?"
Emma says as a woman in work, it is much more accepted these days to have tattoos.
"Some careers have a strict policy, you obviously wouldn't get any visual tattoos but I would say generally it is so much more widely accepted — I don't think it is as much of an argument anymore."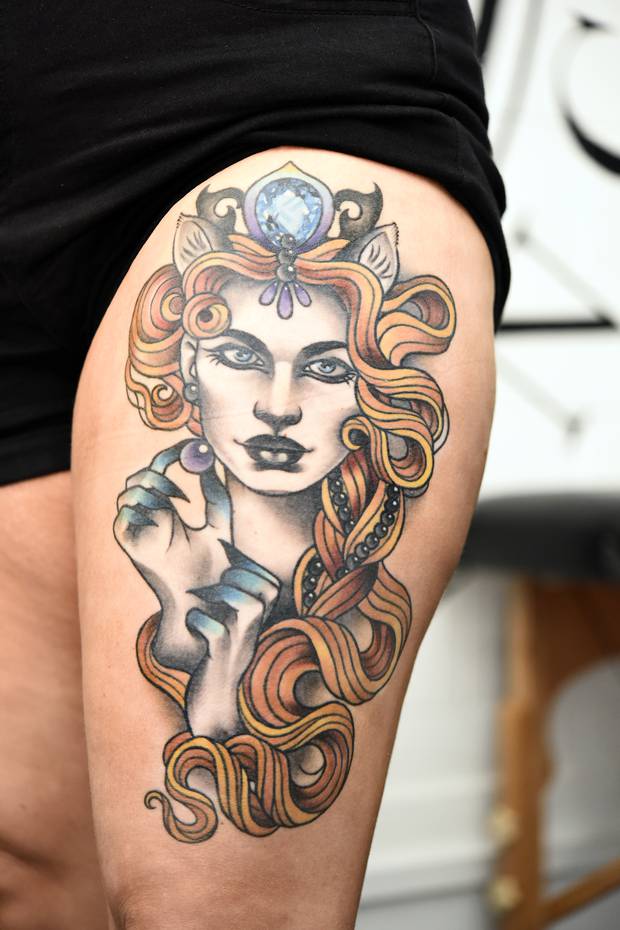 Emma always wanted to be a tattoo artist. She grew up in Hawke's Bay and was a keen drawer. She tried to get a tattooing apprenticeship at age 16 which turned out to be harder than she thought. A range of jobs ensued including gym instructor and makeup artist. She studied a bachelor of visual arts and design.
Finally, she landed an apprenticeship under Dwain Aiono in Hawke's Bay, where she did her first real tattoo — on herself. It is a cute bird on her ankle ("it looks like it has a broken neck!" she says). Sometimes she thinks of changing it but she's proud of it, it's her first tattoo and a great memory.
Emma says tattoos make people feel good about themselves.
Many of her clients want feminine tattoos — floral or birds.
I have had women messaging me saying I have changed their lives and they have so much more confidence now, they finally find themselves sexy.
"One lady had quite a few scars on her body and I was doing a flower on her hip … she started crying and said 'I have always looked at myself and seen something ugly, now I see something beautiful."
Emma will be tattooing at the Tattoo and Art Extravaganza. Alicia will be her subject.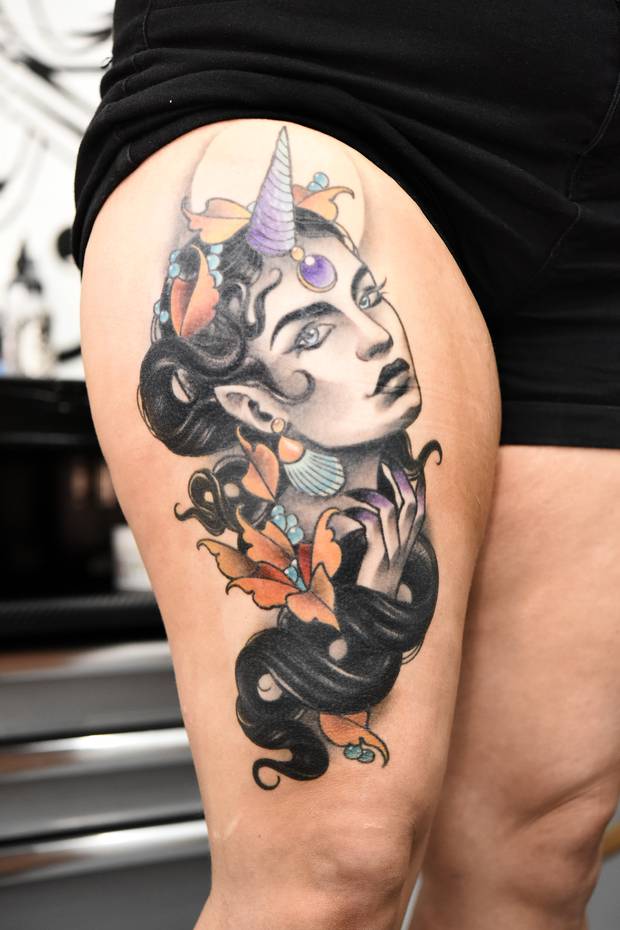 The event
Some of the world's best tattoo artists will be joined by graffiti artists, circus performances, musicians, samba and car enthusiasts at the Tattoo and Art Extravaganza in Tauranga next weekend.
Now in its eighth year and freshly rebranded, expo organisers aim to outdo themselves and this year feature an even more impressive line-up of artists, aerial acrobats and performers.
Top of the must-see list for many will be Randy Engelhard, an artist specialising in realism. Randy has been an innovator of the industry for many years and has found fame through his TV series that airs in Germany.
More than 200 tattoo artists from all around the world, including the best New Zealand tattoo talent, will be at the event.
Other attractions not to be missed this year include: the ever popular Miss Tattoo NZ, the inclusion of the Wearable Extravaganza, body marbling, Brazilian samba dancers, graffiti competition and circus performances.
Event organiser Chris Preece says the weekend-long NZ International Tattoo and Art Expo is a candy store for art enthusiasts.
"It's not often you can get up close and personal with the best local and international talent under one roof. A lot of the tattoo artists exhibiting are booked out for months in advance, so it's an opportunity to get inked by some of the world's best."
But even if you're not keen on permanent ink, the expo is a place to get glimpse of all that is happening in custom culture.
"It's not just about the incredible tattoo art. We also have amazing street artists, a car show, competitions, comedy shows and burlesque performances, not to mention great live music all weekend."
Read more at NZHearald.com